YOU'D BE NUTS TO
TRUST YOUR TREES TO
ANYONE ELSE
ISA Certified Arborists
Serving North County since 1983
Tree Barber Is Your
San Diego

Tree Care Experts!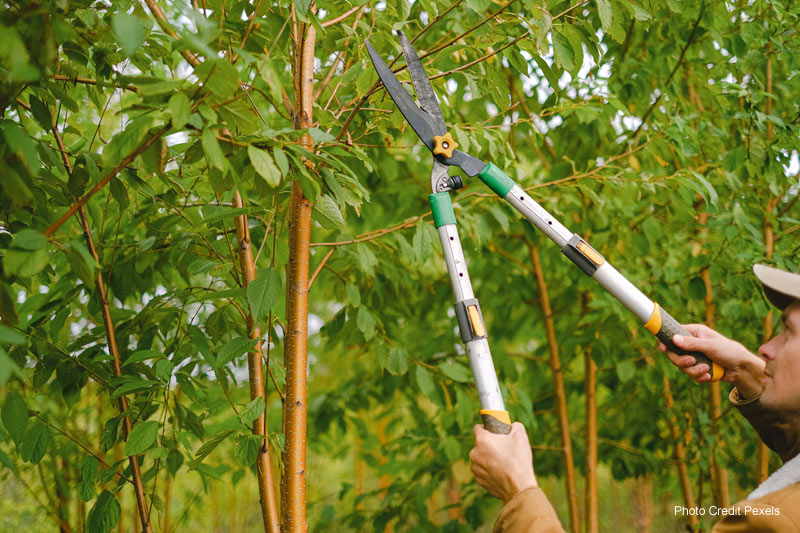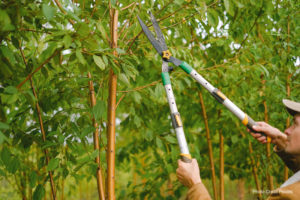 Tree Barber is a complete tree trimming and tree care service in San Diego County. For the last 30 years we have provided tree trimming services, tree removal, and arborist consultations to commercial and residential clients throughout San Diego County. Our Certified Arborist and Certified Tree Workers specialize in all aspects of tree care to ensure that your landscape is beautiful, safe, and healthy. Tree Barber Inc. is a proud member of the International Society of Arboriculture and is ISA-certified. Our comprehensive tree care services include: 
Tree Trimming & Pruning 

Tree Removal 

Safety Pruning 

Tree Health & Fertilization 

Pest & Disease Control

Arborist Consultations & Advice

Recommendations for Regional and Drought-Tolerant Trees
Tree Trimming San Diego
Professional tree trimming is a crucial step in keeping your trees healthy, safe, and beautiful. Tree trimming service by a Certified Arborist ensures that your trees are correctly trimmed throughout key times in San Diego's growing season. Improper tree trimming can result in disease, uneven growth, root instability, or susceptibility to insect damage. Our team of experienced, certified arborists will assess your tree before recommending a trimming technique. In general tree trimming in San Diego can take place at any time of year, but we may recommend a customized care plan depending upon the species, age, and location of the tree. 
Residential and Commercial Tree Trimming Services 
Tree Barber Inc works with all types of clients across San Diego county. We provide tree trimming and tree maintenance for private homes, apartment buildings, HOAs, commercial properties, schools, public buildings, and municipalities. Every appointment starts with a free estimate to learn more about your property and determine the extent of services required. 
Tree Lacing & Thinning 
Tree lacing is an advanced arborist technique that allows for better light and airflow through the branches. This method can help reduce disease and pest issues as well as prevent weak and dangerous branches. Tree lacing creates a natural and aesthetically-pleasing effect that can be maintained with regular service. 
Tree Reduction
If you need significant reductions to a tree's height or width, consider tree reduction. This method allows you to safely control the overall space taken up by the tree without impacting the look or integrity of the growth. Note that this is an alternative approach to tree topping which is harmful to the safety and health of the plant. We always recommend tree reduction with a certified arborist instead of tree topping. 
Safety Pruning 
As a property owner it is crucial to maintain the integrity and health of the trees on your property. From dangerous branches to overgrown root systems, unmanaged trees pose a threat to structures, neighboring properties and guests. A certified arborist will assess each tree and provide reliable guidance on the best way to manage it based on size, species, and proximity to your property. During our visit we will look for signs of weak branches, sprawling roots, cracks, insect infestation and disease. Depending on the extent of the risk we will recommend safety pruning practices that can save thousands of dollars in preventable damage or removals. Safety pruning can help prevent: 
Tree damage during a storm

Cracked foundation caused by roots or overgrowth

Cracked sidewalks & driveways

Damage to your or a neighbors' property
Get in touch today to book a free estimate or read more about our Safety Pruning services.  
Tree Removal Service & Stump Grinding
In some cases full removal of a tree is required. This could be due to disease, construction, or the failing health of an aging tree. Removing a tree before it falls is the key to preventing further costs and damages. Our ISA-certified tree trimming service in San Diego can remove all types and sizes of trees. We take great care to conduct the service in the safest and cleanest manner possible while using protective measures at all times. Whether the tree is exceedingly tall, wide, old, or unstable, our experienced team is equipped to handle even the most complex tree removal project. Our tree removal service includes: 
Rigging and roping techniques as needed

On-site prep to prevent damage to your property during removal 

Insurance and workers compensation to ensure all are protected 

Stump grinding to ensure the tree does not grow back 
Tree Root Control & Barriers
Tree roots can be just as important to address as the branches. Overgrown and sprawling roots can damage foundations, sidewalks, driveways, and sewer lines if not addressed in a timely manner. Our San Diego customers frequently need help with implementing root barriers to redirect roots away from sidewalks and structures. This service is highly recommended for new landscaping or semi-mature trees that have not yet started impacting the sidewalks or nearby structures. It is important to work with a certified tree trimming service before installing root barriers as a poorly-designed system can cause harm to your tree or other adjacent landscaping. 
Tree Health & Fertilization 
With over 30 years in professional tree trimming in San Diego our experienced team can diagnose almost any issue. Keeping your trees healthy is key to consistent growth and adequate strength in the roots and branches. Healthy trees are also less susceptible to disease and insect damage. Regular maintenance and professional pruning can go a long way in keeping the tree system intact, however routine soil maintenance and fertilization can also prove impactful. 
Tree Fertilization
Our team of San Diego Certified Arborists have in-depth knowledge on the local soils and clays that support the root system. We offer professional soil care treatment including fertilization, mulching, and root pruning to keep your yard looking great. By correctly fertilizing your property you may increase disease resistance and support healthy growth. In fact, tree fertilization in San Diego county is especially important due to the competing root systems of other plants in the area. 
Tree Diseases & Insects
Unfortunately there are a host of diseases and insects that can cause damage to both young and mature trees. As a ISA-certified arborist in San Diego we can detect and diagnose almost any sickness or insect issue with your trees. Keep in mind that early identification and treatment is key to keeping issues at bay. Tree Barber Inc is licensed by the State of California Department of Pesticide Regulation.
Insect Control Service 
Insects can weaken tree branches, trunks, roots, and leaves. While insects may be visible to the naked eye, others may be living deep in the root system or inner trunk of the organism. We have extensive knowledge on the identification and treatment of insects that can negatively impact your tree, as well as preservation techniques for supporting species that help your tree thrive. 
Tree Disease Control Service 
Tree diseases can appear as viruses, bacteria, or fungi. They can impact the health of the roots, branches, trunk or leaves. In some cases diseased trees may be easy to spot, however a trained arborist can often detect potential issues lying beneath the surface. In addition to weakening components of the tree, diseases can also impact the ecosystem surrounding it. If you notice that your tree has new markings, excretions, or any other new characteristics it is a good idea to book a consultation with an experienced arborist. 
Arborist Consultations 
Whether you are moving to a new property, dealing with an aging tree, or wondering about the best drought-resistant plants for your property our team of Certified Arborists can help. With more than three decades of experience with tree trimming in San Diego we can provide guidance on tree removal, infestations, diseased trees, pruning, and more. Not sure about the best tree to plant on your property? We can help! We have extensive knowledge of local species, including drought-tolerant varieties that thrive in Southern California's climate. 
Common Tree Questions 
Tree Barber Inc has full-time staff on hand to provide assistance with scheduling or any questions you may have about trees on your property. From assessing tree health to selecting new landscaping for your yard, Tree Barber is happy to answer the most common questions, including: 
How can I tell if my tree is sick or diseased? 

What would be the best trimming option for a tree that is overhanging my property? 

How should I handle an aging tree? Are there any solutions besides for removal? 

Can I do anything about the root systems tearing up my driveway? 

What are the best drought-tolerant trees for my area? 

Can you tell me about the spots or other marks I am noticing on my tree? 
If you have additional questions about your tree get in touch by booking a free estimate, or review our comprehensive FAQs Page for more information. 
What is an ISA-Certified Arborist?
The International Society of Arboriculture (ISA) is a globally-renowned professional association dedicated to the care and maintenance of trees. ISA-certified arborists have undergone extensive training to pass a comprehensive exam on tree care. The ISA certification must be maintained over the years with ongoing education. Gaining an ISA license reflects superior knowledge in the art and science of tree planting, maintenance and care. Tree Barber is a proud member of the ISA and has contributed to local conferences supporting ongoing knowledge development in the field. In fact, Paul Rider, the owner and founder of Tree Barber Inc has served as the Vice President and President of the ISA chapter in San Diego. 
About Tree Barber Inc. 
Tree Barber Inc was founded by Paul Rider and his wife Crystal in 1983. As one of the best tree trimming services in San Diego, Paul and his team have been privileged to serve hundreds of residential and commercial clients across the county. Our team is exclusively composed of qualified, Certified Arborists or Certified Tree Workers. We use the most advanced equipment and techniques with a special focus on safe working practices. Our advanced skills and expertise ensure that we complete every job correctly and on time. 
Today, Paul is an established leader in San Diego's arborist network. In 1995 Paul was commissioned to serve as a Certified Arborist for the National Christmas Tree in Washington D.C. As an active member of the National Arborist Association Paul has served as the President and Vice President of the San Diego Professional Tree Care Association. He also serves as a judge and proctor for the Certified Arborist and Certified Tree Worker professional exams. 
Tree Barber Inc is an active participant in the conservation and preservation of historical trees in San Diego County. We plan and participate in Arbor Day awareness programs at local schools and coordinate tree planning services in areas of need. Our passionate team also delivers seminars and workshops to inform locals about the important role of trees within the local ecosystem.