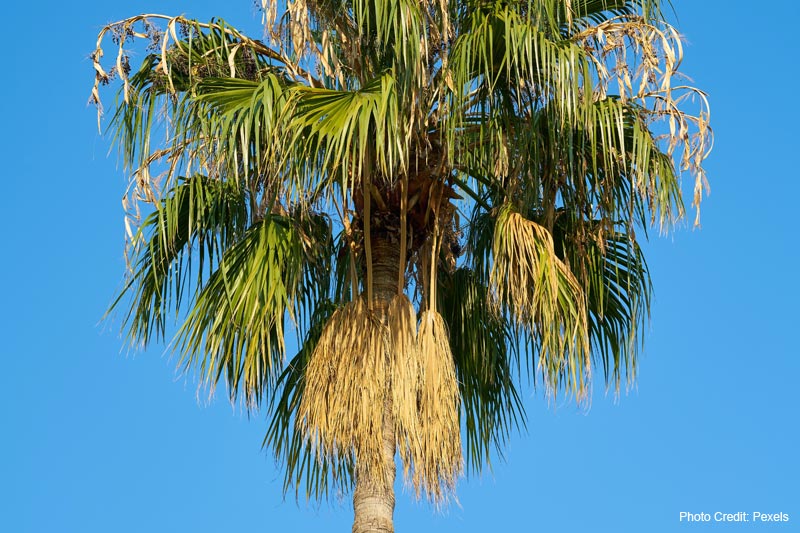 For the past 30 years, Tree Barber has provided San Diego palm tree trimming for residential and commercial clients. Our comprehensive palm tree trimming services include seasonal maintenance, emergency pruning, tree removal, fertilization, and consultations. Tree Barber offers expert guidance from Certified Arborists and Certified Tree workers to ensure your property remains healthy, strong, and beautiful. By choosing an experienced, certified tree trimming service you'll enjoy expert guidance on a variety of services, including:
Palm Tree Trimming & Pruning
Palm Tree Removal
Safety Pruning for Damage Prevention
Palm Tree Health & Fertilization
Pest & Disease Control
Tree Consultations & Advice
Recommendations for San Diego palm trees and regional species
The first step is booking a complementary estimate with our team. Get started today or visit our FAQs page for more information about our services.
San Diego Palm Tree Trimming
As Certified Arborists we can recommend the best time of year for your San Diego palm tree trimming service. By booking palm tree trimming at the right time of year you are helping to keep your tree strong and healthy. Not only does this protect the tree, but it also reduces the risk of damage to nearby structures, cars, and pedestrians. Palm tree trimming is also important to prevent the presence of pests, rats, and invasive bird species. By strategically and safely removing dead fronds, you'll reduce the chance of breakage or unwanted infestations.
Why Palm Tree Trimming is Important
Palm tree care and maintenance is essential to keeping your tree strong, preventing damages, and limiting fire risk. Regular pruning also keeps your tree looking healthy and prevents it from blocking the views in your area. A well-maintained tree is less likely to drop dangerous, large fronds onto cars or pedestrians in the area. The key to San Diego palm tree trimming is selecting the right time of year. Spring is often an ideal time due to the tree's growing season, however our Certified Arborist team may suggest alternative options based on your property's needs. Palm tree trimming can help with:
Reducing the risk of damage to cars, buildings and pedestrians
Keeping the tree aesthetically-pleasing
Allowing for healthy, seasonal growth
Minimizing rodent or insect infestations
Reducing fire hazards
Improving visibility from windows and rooftops
Safety Pruning for Palm Trees
As a property owner, it's important to take care of the trees on your property. Safety pruning is an often overlooked practice that can save a lot of money in preventable damage. Especially in areas with tall, heavy, or mature palm trees, regular trimming may be the key to avoiding property harm. Unmanaged palm trees, overgrown root systems, and loose fronds all pose a hazard. Appropriate San Diego palm tree trimming can help prevent:
Fallen trees or damage during a storm
Cracked foundation caused by roots or overgrowth
Cracked sidewalks & driveways
Damage to your or a neighbors' property
Palm Tree Fertilization
Properly fertilizing your palm trees supports healthy growth and increases resistance to diseases. Our professional soil care plans include, mulching, root pruning, and fertilization of your palm trees or other trees on your property.
Palm Tree Removal
Removing a palm tree can present a daunting task. It is important to choose a licensed, insured palm tree removal service to complete the job in a safe and timely manner. Our palm tree removal service includes appropriate rigging and roping techniques to ensure safety for our staff and the property. We also offer stump grinding and root services to prevent unwanted regrowth.
Our Consulting Process
Before booking your appointment our team provides a detailed estimate on the size and details of the job. We'll review the site for several factors, including the number of trees, height, any known infestations, timeline, and labor hours required. These elements allow us to provide an accurate, transparent quote before getting started with your palm tree trimming service. Once your appointment is booked our team will arrive with all materials, tools, and equipment required to complete the job on time.
Who We Work With
Every year we work with residential, commercial, and governmental clients across San Diego. Our San Diego palm tree trimming services are ideal for HOA's, land owners, property managers, home owners, and public administrators. Whether you need annual maintenance or emergency services, our experienced team offers customized tree trimming solutions to meet your timeline and budget.
Why Choose a Certified Arborist?
The International Society of Arboriculture (ISA) is a world renowned organization that provides the Certified Arborist and Certified Tree Worker designation. To gain this certification, arborists must undergo extensive training and testing the practice of tree planting, maintenance, and care. The training includes a comprehensive review of tree species including palm trees and other common varieties in San Diego County. Tree Barber owner and founder, Paul Rider, is a proud member of ISA and supports local education and development in the field of tree maintenance and care, and has served as Vice President and President of the Vista ISA Chapter. By choosing a Certified Arborist you will enjoy:
Experienced guidance on keeping your palm trees health and beautiful
Knowledgeable staff trained on safety practices and industry guidelines
Reliable booking and scheduling services
and transparent pricing
Safety As a Priority
Many San Diego palm tree trimming services are not certified by the ISA. Unfortunately this can lead to unsafe or ill-advised trimming practices. At the Tree Barber, safety is a central priority. All of our staff are trained, licensed, and covered by Workers' Compensation to ensure alignment with state and federal regulations. We utilize protective gear including glasses, gloves, and other required tools to keep our team members safe.
About Tree Barber, Inc.
Our team of Certified Arborists and Certified Tree Workers have been serving San Diego since 1983. As a leader in San Diego's arborist community, Tree Barber Inc coordinates local school awareness and tree planting services around the county. Our founder, Paul Rider, has served as the President and Vice President of San Diego's Professional Tree Care Association. Paul has also served as a judge and proctor for the International Society of Arboriculture.